Altitude Control Valve Working Principle

Altitude control valve closes at a preset maximum water level to prevent overflow from an above-ground storage tank or cistern and opens to replenish water when the level of the storage tank or cistern is lowered. Altitude control valve controls the high water level of the reservoir without floats or other devices. It remains fully open until it reaches the closed water level. The valve is designed for one-way flow only. The valve is hydraulically operated with a pilot control. The pilot control operates based on the force difference between the spring load and the water level in the reservoir. The pilot control measures the reservoir head through a customer supplied sensing tube connected directly to the reservoir.

Altitude Control Valve Installation and Commissioning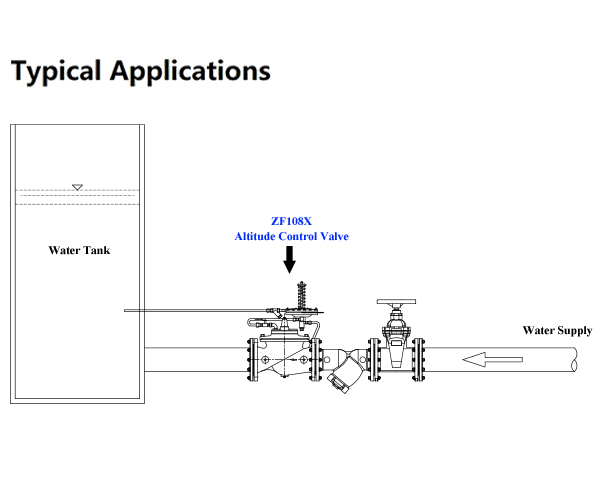 In areas where freezing temperatures are possible, the valve should be located in a vault below the frost line. For specific use, please consult Zeco Valve Group.
Altitude Control Valve Material and Standard
Size Range: 2"~24"
Pressure Rating: 10bar ~ 25bar
Face to Face Dimensions: AMSE B16.10, EN558-1
Flange End Dimension: AMSE B16.5/16.42, AS4087, EN1092-2
Coating: WRAS approved Fusion Bonded Epoxy Coating
Inspection and Test: ISO 5208 / EN 12226-2
Part

Material

Standard

Body

Ductile Iron

EN 1563/DIN 1693

Bonnet

Ductile Iron

EN 1563/DIN 1693

Trim

Stainless Steel 304

EN 10088-1/ASTM A959

Seat

Stainless Steel 304

EN 10088-1/ASTM A959

Diaphragm

EPDM / NBR

ISO 4633

Pilot Valve

Stainless Steel 304

EN 10088-1/ASTM A959

For materials options not listed, consult factory.

Zeco manufactures valves in more than 50 different alloys.