Knife Gate Valve Working Principle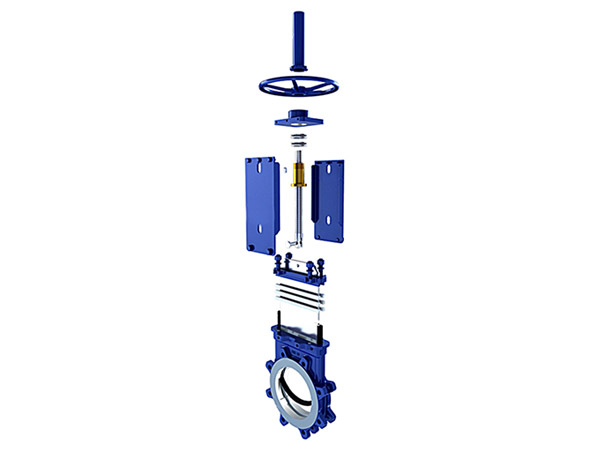 The wiper between the valve body and bonnet of the knife gate valve prevents solid particles from entering the bonnet. The valve body cavity, seat configuration and slant gate design provide features to impede the entry of thick media (e.g. pulp, slurry) or solid media (e.g. granules and powders).   
Knife gate valve gate and seat are always in close contact with the sealed valve, the gate with a guide hole with the same through conduit gate valve, the gate has a through diameter size of the round hole, through the gate opening and closing so that the round hole on the gate and the through diameter to do a complete disengagement and coincide with the action. In addition, the advantage of the structure is that the valve body diameter without grooves, the medium will not be blocked, and has a full diameter flow characteristics, suitable for the use of powder and particle media in the pipeline. Its sealing structure can be divided into soft seal, hard seal structure. Sealed valve seat is designed with movable structure, with anti-wear and automatic compensation function, thus longer life. In the process of closing and opening the valve seat and the gate plate have been close to the movement, so that the valve opening and closing force is stable.
Knife Gate Valve Installation and Commissioning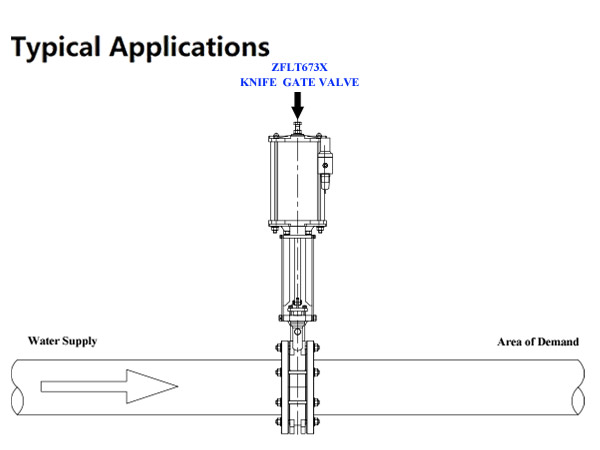 Knife gate valve can be divided into pneumatic knife gate valve, electric knife gate valve, manual knife gate valve. According to the operation mode, Installation and operation according to the different operating instructions. For specific use, please consult Zeco Valve Group.

Knife Gate Valve Material and Standard
Size Range: 2"~48"
Pressure Rating: 10bar ~ 20bar
Face to Face Dimensions: MSS SP-81-2006
Flange End Dimension: EN1092, ASME B16.5, ASME B16.47, AS2129
Inspection and Test: MSS SP-81-2006
Part

Material

Standard

Body

GGG40/WCB/CF8/CF8M/4A

ASTM STANDARD

Bonnet

GGG40/WCB/CF8/CF8M/4A

ASTM STANDARD

Trim

GGG40/WCB/CF8/CF8M/4A

ASTM STANDARD

Seat

HARD SEAL/EPDM

ASTM STANDARD

For materials options not listed, consult factory.

Zeco manufactures valves in more than 50 different alloys.